The sites
We begin with introductory analyses of three sites: the village of Patsianos, threshing floors just below the village, and the fort of Frangokastello on the coast.
Patsianos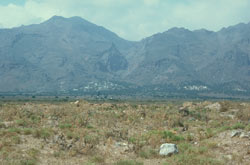 Villages of Patsianos and Kapsodasos on the fan of erosion material which has come out of the Kallikrati Gorge. (1982).
© Sphakia Survey
Village and ancient site on gravel fan coming out of the Kallikrati Gorge. Height: 132-184m.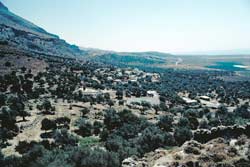 Patsianos Village July 1990: looking SE over the church of Ag. Athanasios, centre right, and Kapsodasos in the distance.
© Sphakia Survey
Breccia with cemented terra rossa (because much water percolates through). Soil light orange brown sandy silt.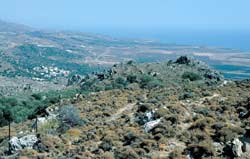 Looking down and east over Patsianos Village. (1996).
© Sphakia Survey
Olives on terraces 100-200 years old. Prehistoric and Graeco-Roman sherds and associated material on hills and saddle to north of present village. Area (ancient sherd scatter): 120m x 250m, but difficult to assess the size of the settlement for this period as most is still in the ground. Sherds collected: 304.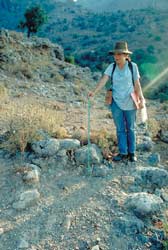 Patsianos Village Venetian pottery deposit. Jennifer Moody with stick. (July 1990).
© Sphakia Survey
Modern village: area attributed to village 29.4 sq.km: 1.1 cultivated, 14.4 common pasture, 3.4 woodland, including summer village at Kallikráti (8.66) and mitáta.

Patsianos Village July 1990: Venetian pottery deposit in terraces west of playground, looking north.
© Sphakia Survey
The modern village has drifted south to the paved road, so that most of the abandoned and ruined Venetian-Turkish houses lie to the north, on terraces between Turkish bridge and the kaldirimi to Kallikrati (density 17). Venetian pottery is clear (earliest is fifteenth to sixteenth century) into Turkish.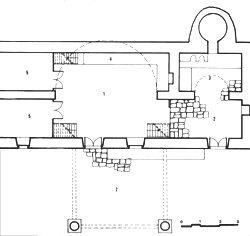 House in Vouvas, Sphakia.
© Melissa
Numerous kamara houses, with entry on long side (one with date of 1845 on end wall). We give here a plan and a section of a house in a village just west of Patsianos.


House in Vouvas, Sphakia.
© Melissa
The village is mentioned in a series of Venetian listings, and in a Venetian drawing: Barozzi 1577, Anon 1580, Castrofilaca 1583, Basilicata 1629, Trivan 1644.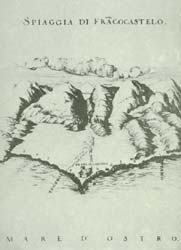 Frangokastello drawn by Basilicata (ca. 1615). Villages of Capsano (Kapsodasos) and Pazzano (Patsianos) are reversed.
© Historical Museum, Herakleion
Population: 56 households, 7 unmarried adult males ca. 1649-50 (Ottoman census); 56 households, 5 unmarried adult males ca. 1655 (Ottoman census); 61 heads of households in 1704 (Ottoman census); 14 families in 1834 (summer), low because of transhumance to Kallikrati; population 150 in 1903; 70 in 1890; 120 families in 1888.
Churches: Ag. Georgios (half way up old village): large church; Gothic arch; later bell tower; listed in 1637.
Khristos (above Ag. Georgios, on own enclosure terrace): double church, divided by kamara arch; 2 Gothic arches; listed in 1637 as Sotiros; plaque of 1848 (and repair of 1996).
Ag. Ioannis Vokolos (8.48).
Khalasma Alonia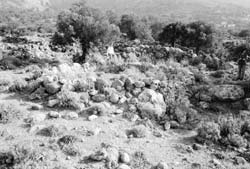 Khalasma (Patsianos) Alonia: alonia, looking north.
© Sphakia Survey
The name of this site means (roughly) ruined threshing floors (alonia). At least 14 alonia S of Patsianos between the big N-S kaldirimi and the gully with the Turkish bridge, on the outwash fan of the Kallikrati Gorge. Height: 56-64. Area: 100m x 150m. The presence of many boulders would have made cultivation next to impossible, but the stone could be used for walls and alonia. 1 aloni is very large: diam. 9m40, W of double-faced external wall 95cm, stones 50 x 65 x 30cm, with a cobbled floor. It also has a section of wall along the NE like an eyebrow, perhaps to serve as a wind baffle; other alonia here had such walls as well. 2 others are more than 7m50 in diameter, with double-faced external walls 70cm wide. According to local man in his 60's (5/7/1990), the alonia went out of use ca. 1950-52. Sherds collected: 20. Sherd densities 0-5 (mostly 0-1). Some Classical-Roman; mainly Venetian-Turkish.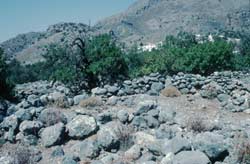 Replace this text with the description of this media object.
© Sphakia Survey
There is a similar threshing area immediately south-east of Kapsodasos (12 alonia).
Possible tumble just south of enclosure with light scatter of small sherds in soft orange fabrics (Hellenistic-Roman?).
Frangokastello
On the seaward edge of the Frangokastello Plain, in the angle between a shallow ravine coming out of the plain and the low breakaway cliff above the coastal fens. Height: 10m. No significant vegetation.
A fourteenth-century Veneto-Cretan castle of a once-standard pattern; much less altered than the only other surviving example at Herápetra. It was drawn, as we have just seen, by Basilicata. Repaired and adapted as a nineteenth-century Turkish fort. We give here an account only of the Venetian phase. A rectangle of four corner towers joined by battlemented and curtain walls and enclosing various buildings. The SW tower is bigger than the others and of 3 stories; the others are of 2. Consolidation by Byzantine Ephoreia in 1973; excavation and further consolidation, 1994.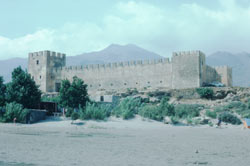 Frangokastello Aug. 1982. View of fort from shore. Looking NNW.
© Sphakia Survey
The SW tower has provision for timber floors and flat roof. The ground floor has only a doorway. The middle floor has the original entrance, approached by a detached stone stair (which survives) and a gap which would have been filled by a drawbridge; the stone hinge for the door survives. Also on this floor is a blocked doorway — presumably for access to the wall-walk — and six round-arched recesses containing arrow-slits. The top floor has a window on the S and arched window- recesses on the N. The battlements are loopholed on the E and N only.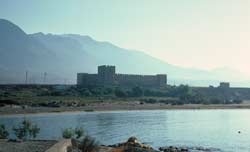 Frangokastello 1986: fort looking NE.
© Sphakia Survey
This tower was certainly built first and the rest of the castle added soon after. It is markedly askew to the rest of the plan. The upstairs entrance with its drawbridge makes no sense inside the castle. The blocked doorway would not open on to the present wall-walk, which abuts in a different place. All this implies that the tower was built as an independent fortress, which it might have remained. Its builders planned it to be incorporated into a rectangular castle (following the pattern of several already built); but when the time came they were unable to put the curtain walls and the other towers exactly into the positions planned.
The SW tower bears an heraldic plaque with the coat-of-arms of the Venetian Querini family. The same coat appears over the S doorway immediately adjacent, implying that both phases were built during the office of one of its members.
The other towers open by original doorways into the courtyard. They were partly rebuilt in the Turkish period. They had barrel-vaulted upper floors, and probably arched recesses with arrow-slits, best preserved in the SE tower.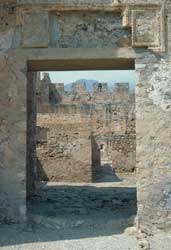 Frangokastello: Venetian crests above SW doorway: Lion of St Mark, with arms of Querini and Dolfini families (1982)
© Sphakia Survey
The curtain-walls have scarcements for roofs of low internal buildings; there is a wall-walk less than 1m wide, and rectangular battlements, a few of which are pierced with arrow-slits. There are four entrances, two of them blocked before the Turkish alterations. The SW entrance, enlarged in the Turkish period, is probably the original. Over it were four heraldic plaques, bearing (1) the Querini arms just mentioned; (2) the Lion of St Mark (Venice); (3) missing; (4) dolphin, the arms of the Delphini.
Monanni's aerial view of the castle in 1631 shows with 2-storey buildings against the N and E walls, a central chapel, and a small entrance where the present SW doorway is. Some foundations of the internal buildings are probably still visible, but there is no trace of the church above ground.
In 1340 the administrators of Crete decided to build, at their expense, a castle at 'St Nichetas', in order to protect the area from corsairs. Originally named after the nearby chapel of Ag. Niketas, successor to a basilica (8.50), it was soon called Frangokastello, 'Frankish Castle', a name taken up by the Venetians as Castel Franco. The fort may have been built in part out of the remains of ancient buildings in the area.
This was not much of a castle. The weaponry, to judge by surviving arrow-slits, amounted to at most 30 bows. The wall-walk is impossibly narrow. As in most Venetian and Turkish fortification in Crete, no importance was attached to guarding the entrance: although tucked away in a relatively inaccessible place, it was covered by only one archer. This castle knows nothing of the sophisticated curves and complex gatehouses of western European and Crusader fortification.
To the later Venetians Frangokastello was a remote, half-abandoned place of no military significance. Monanni describes it as a Sphakiot coastguard post, 'without guns and without equipment'. But it was repaired in the early seventeenth century against the Turkish threat.