The work of the Ministry of Culture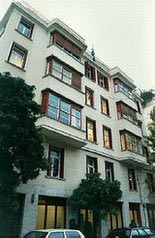 Greek Ministry of Culture building
© Hellenic Ministry of Culture
The Hellenic Ministry of Culture was formally established in 1971 as a permanent ministry of the Greek government.
The conservation of Greek heritage had been a high priority from the very earliest days of the modern Greek state in the 1830s, with the Akropolis at Athens being the focus of much early work.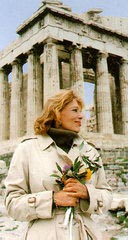 Melina Mercouri, Minister of Culture (1981-9, 1993-4)
© Hellenic Ministry of Culture
The Ministry of Culture is a high-profile part of the Greek government. Melina Mercouri is perhaps the best known minister (1981-89, 1993-94) because of her spirited campaign for the return of the Parthenon marbles.
The Ministry is working to develop a complete cultural policy for Greece, through a Unified Cultural Network which will act as an umbrella organisation for all work of the Ministry concerning cultural heritage and cultural development. This unified approach has already led to the Unification of the Archaeological Sites of Athens, through the creation of linked archaeological projects.
The Ministry is responsible for all state museums; for regional ephorates (departments) dealing with Prehistoric and Classical Antiquities; Byzantine Antiquities; and Recent Monuments. The two departments of Underwater Archaeology, and Palaeoanthropology and Speleology (early humans and caves!) are run from Athens, where the central offices of the Ministry are also located.
All archaeologists, Greek and foreign, wishing to conduct archaeological work in Greece, must apply to the Ministry for permission. Foreign archaeologists are required by Greek law to apply through the appropriate archaeological school. Many foreign countries have archaeological schools in Athens; some of these institutions (e.g. the French, German, British, and American) are well over a century old, while others (such as the Swedish, Belgian, Canadian, and Australian) are much younger.
All archaeological material collected on excavations and surveys must remain in Greece.