The work of the archaeological service


(Click to enlarge) © TALL
Crete has three Departments of Prehistoric and Classical Antiquities, located in Herakleion (central Crete), Agios Nikolaos (eastern Crete), and Khania (western Crete); this list reflects the order in which these departments were established. It has one Department of Byzantine Antiquities, and one Department of Recent Monuments, both based in Herakleion. Altogether, Crete has five out of 47 Greek archaeological departments, or just over 10%; a glance at a map will show that Crete does not represent 10% of the area of Greece.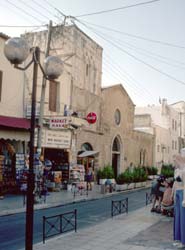 Khania: Venetian monastery church of St Francis, now the main archaeological museum (2002).
© Lucia Nixon
There are six archaeological museums in Crete. Again, their construction dates give us an idea of which areas received significant archaeological attention and when:
Herakleion 1904-1912
Hierapetra, collection from the early nineteenth century; museum now in former Ottoman Commercial School.
Khania 1963
Agios Nikolaos 1970
Rethymnon, museum by mid-1970s; new museum in former Turkish fort 1991.
Siteia 1984.
There are Byzantine museums in Herakleion and Khania (opened in late 1990s).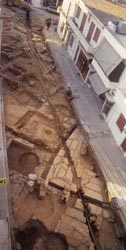 Daskaloyianni Street, Khania. 1997 excavations.
© Kapon
The archaeological Departments on Crete, like others in Greece, conduct rescue excavations as needed, in addition to their own academic excavations.
They also supervise archaeological projects (excavations and surveys) directed by Greek academics, for example people working at the University of Crete with its archaeology department at Rethymnon, as well as those directed by foreign scholars.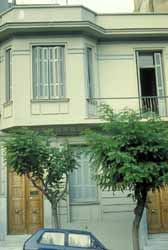 Canadian Archaeological Institute at Athens (1985)
© Lucia Nixon
When we were beginning to organise the Sphakia Survey, Lucia Nixon, then teaching in Canada, and Jennifer Moody applied to the Hellenic Ministry of Culture through the Canadian Archaeological Institute at Athens.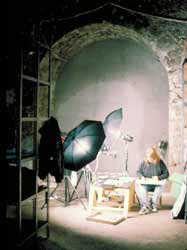 Finds from the Sphakia Survey, photographed in the Khania Museum storerooms, located in the Venetian shipsheds, Khania (1999).
© Sphakia Survey
The Ministry consulted the Department of Prehistoric and Classical Antiquities in Khania, and in due course the permit was granted. We continue to be grateful to the Ministry, and especially to the Department in Khania, for the support that they have given us. The finds of the Sphakia Survey are stored in the Khania Museum storerooms located in the Venetian shipsheds.
Every five years there is an International Congress of Cretan Studies. The 10th Congress was held in Elounda (eastern Crete) in 2001.